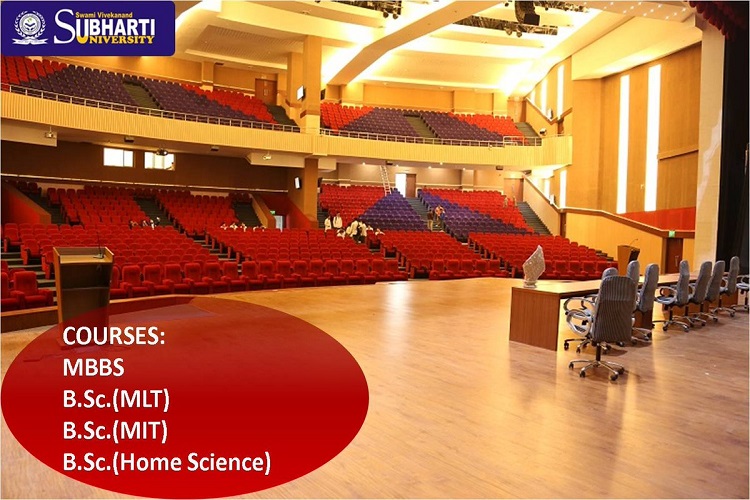 Swami Vivekanand Subharti University
WIMS :

Wits institute of management & science
Swami Vivekanand Subharti University (SVSU) is a University under section 2(f) of the

University Grant Commission (U.G.C.) Act, 1956

set up under the

Swami Vivekanand Subharti Vishwavidhaylaya

Uttar Pradesh Adhiniyam, 2008 (U.P. Act No.29 of 2008) as passed by Uttar Pradesh Legislature and assented by the honorable Governor of Uttar Pradesh in September 2008.
The main campus of the University is in the National Capital Region, strategically situated on National Highway 58, Delhi bypass road, Meerut, The campus aptly called 'Subhartipuram', is spread over a sprawling area of about 250 acres of land comprising magnificent buildings, lush green lawns and vibrant surroundings with over 5000 people, determined to make this a 'Jewel in the Crown' of the nation.
The University has several constituent colleges which provide higher education in almost all the disciplines like Medical, Dental, Nursing, Physiotherapy, Paramedical, Pharmacy, Naturopathy, Yogic Sciences, Engineering, Management, Law, Journalism, Education, Library, Arts and Science, Hotel Management, Faculty of Science etc. thus engaged in creating academically and technically proficient professionals. The University boasts of highly qualified, dedicated and competent faculty from all walks of life, world class infrastructure, fully equipped Laboratories with latest state-of-the-art equipment and a huge library with recent knowledge resources including e-resources. The Uniqueness of Subharti University lies in providing an environment fully conducive to the overall development of students, thus maintaining a balance between academic excellence and moral perfection. The University has also started a number of courses through Distance Education, approved by joint committee of UGC, AICTE, and DEC. The University has been awarded the membership of Association of Indian Universities in 2013. "All India Conference of Intellectuals and School of Educators" have conferred "Outstanding University of the Year 2013-2014" to The University for its outstanding contribution in the fields of education, science, healthcare, national integration, social empowerment and preservation of cultural heritage.
The University has also started a number of courses through Distance Education, approved by Distance Education Bureau of UGC (Formerly by Joint committee of UGC-AICTE-DEC).